The
Panasonic KX
TG-3712 Cordless Landline Phone is ideal for your home or office set up as it comes with dual handsets.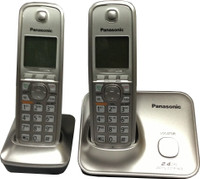 Dual Handsets
This phone comes with dual handsets so you can keep one handset in your living room and another near your desktop.
Caller ID
Now you can get a heads up on who's calling you before you answer, thanks to the caller ID feature.
Design
This phone has an alphanumeric display and keypad so you can save the names and numbers of the important contacts.
Hands-Free
You can attend calls even when you're busy cooking as this phone comes with a hands-free speakerphone mode.
Battery
These phones are powered by rechargeable batteries.